Aitutaki Island, only 140 miles due North of Rarotonga, is fast becoming known as one of the world's hottest kite beach locations.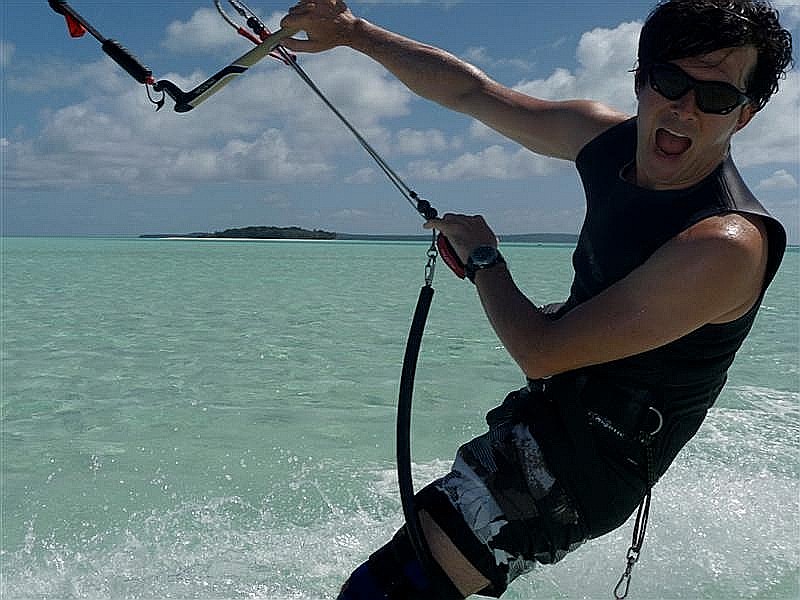 With the great sweep of Aitutaki Lagoon at your doorstep, and the South East trade winds at your back, Akaiami island on Aitutaki lagoon is a perfect unspoiled location for your next kiteboarding expedition. Uncrowded and beautiful, you are likely to have the lagoon to yourself.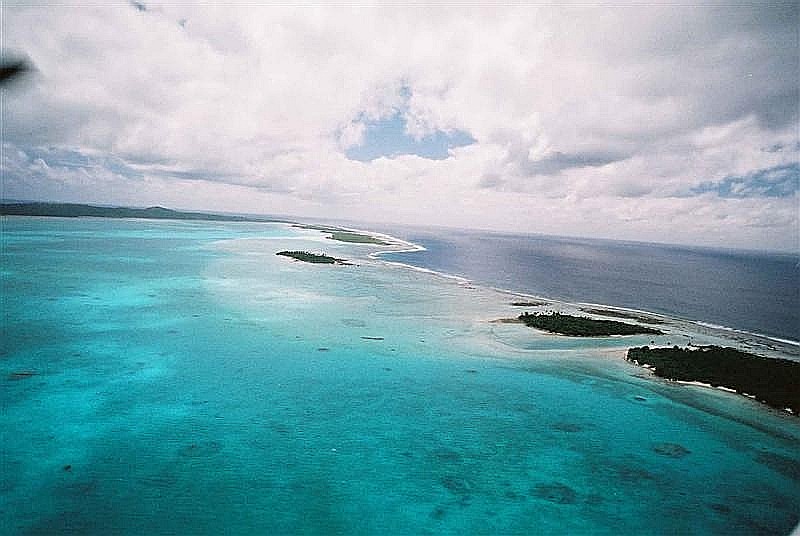 Akaiami Island is on the right hand side of this image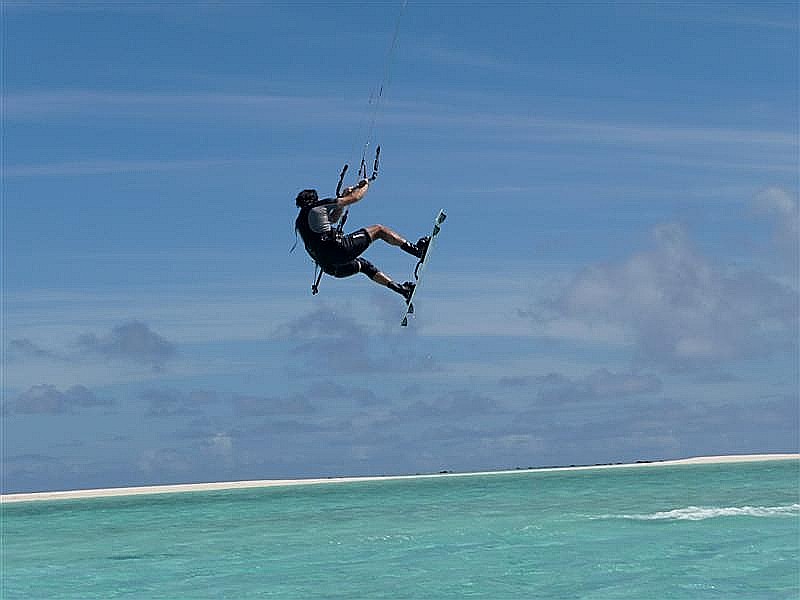 Giovanni from Italy Shows How it's Done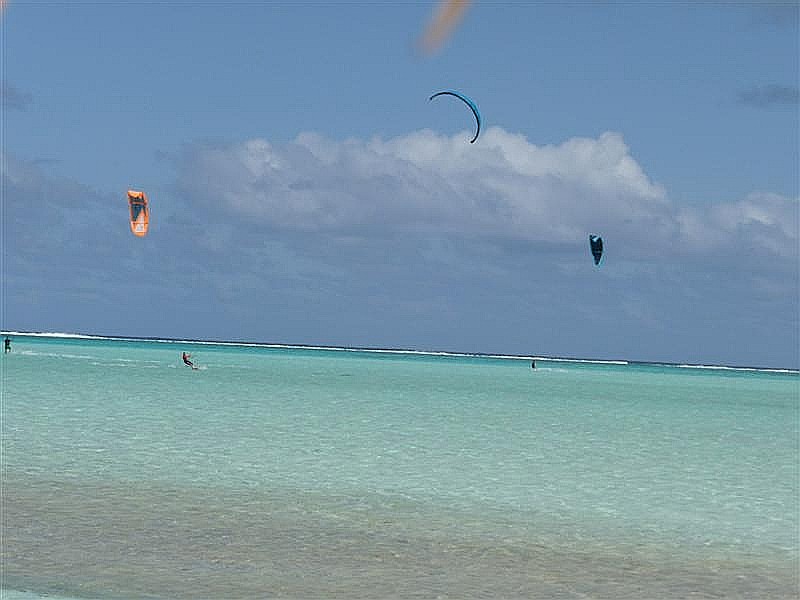 Gina's Akaiami Beach Lodge,located in the center of Akaiami Bay right by the old TEAL wharf, is the perfect accommodation choice for kiteboarders. Set only 20 metres from a beautiful safe white sand beach, our beach lodge is ideal for singles, couples or groups of up to 10 kitesurfers. Groups will get a cheaper group rate - enquire with us. We welcome families.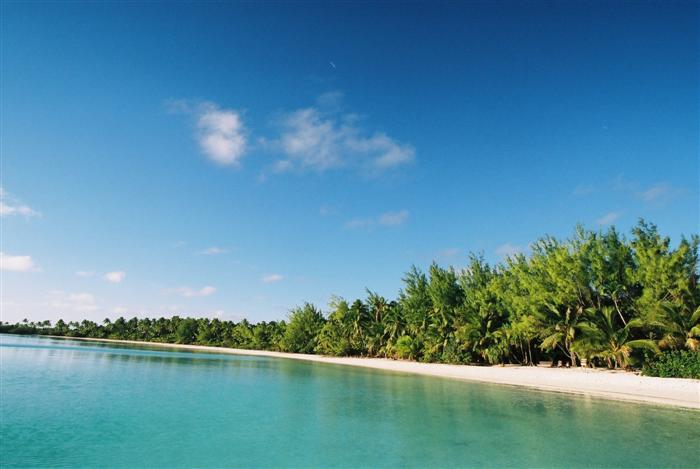 Akaiami Lagoon Beach Showing Gina's Beach Lodge
Comfortably set up, you will only have to wake in the morning and the lagoon is yours - only a short step away.
You can see the details of the lodge and our full list of rates on our Rate page. Double/Twin at Gina's Akaiami Beach Lodge is only $NZ300 per night, whilst single is only $NZ180 per night.Extra adults are only $NZ75 per night each. This has to be the cost effective choice for focussed kiteboarders who wish to have the holiday of a lifetime.
You can also stay at our beautiful Garden Lodges property, at Tautu Village on the main island of Aitutaki. The cost of staying here is very cheap for high quality accommodation - only $NZ75 single, or $NZ120 double/twin. Staying at the Garden Lodges you can still go kiteboarding from the main island.
We also offer special rates for groups and long term stays.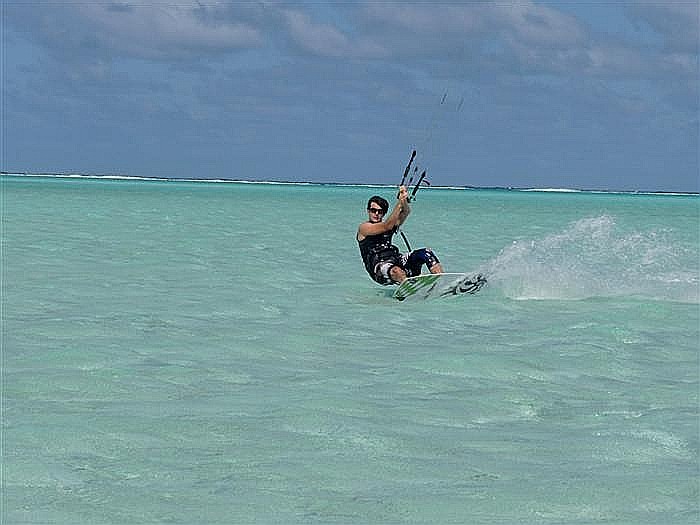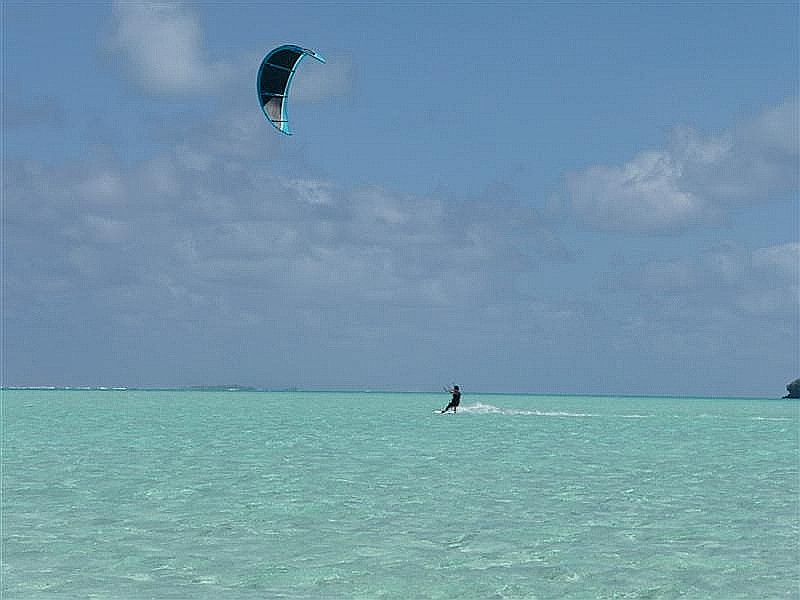 Send us an e-mail to find out more on what we can offer you.
E-mail Gina's (Click here)
Visit Gina's Akaiami Beach Lodge Website for Lodge Pictures, Description & Rates