About Us and our Two Beautiful Properties on Unspoiled Aitutaki Island, in the tropical Cook Islands, South Pacific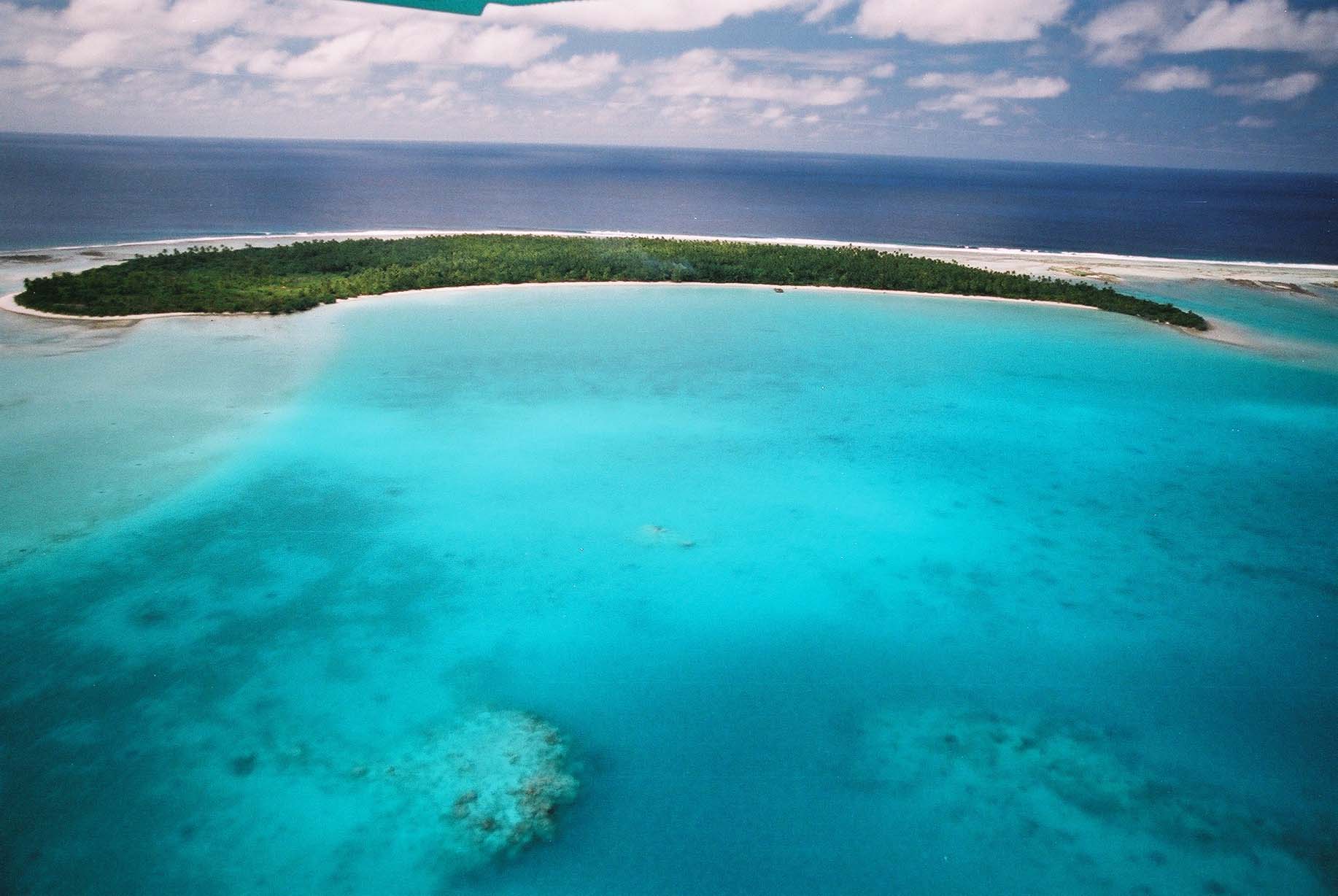 About Us
Come stay at Queen Manarangi's Gina's Garden Lodges Paradise or her Akaiami Beach Lodge Idyll and experience the real unspoiled South Seas - waiting just for you.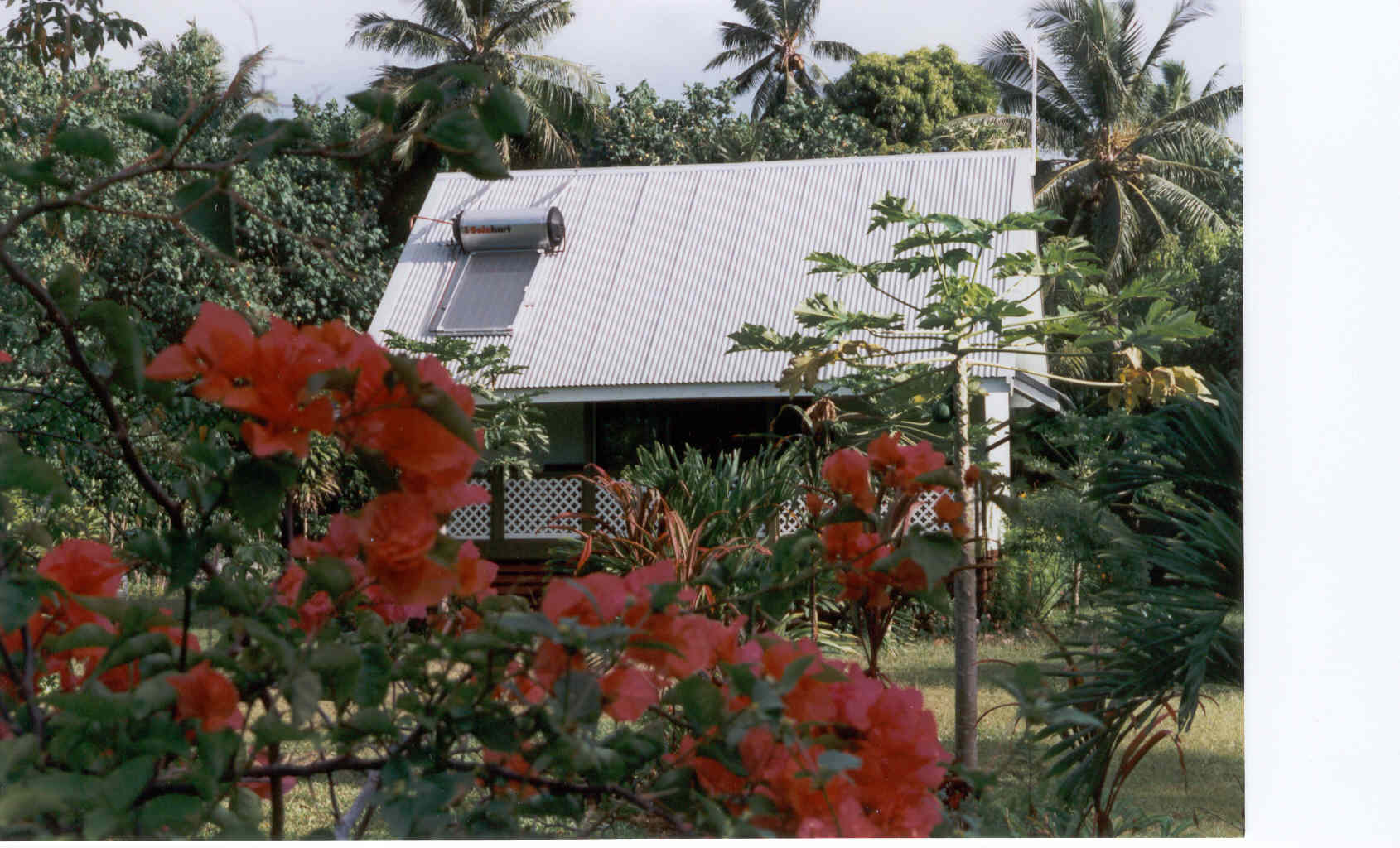 Getting Here
Internal airline flights are by the only local airline - Air Rarotonga Ltd. They have two Turbo Prop Embraier Bandeirante aircraft and one larger Saab turbo prop. The flight Rarotonga/Aitutaki takes about 40 minutes. The Saab aircraft usually does this sector, and is fast and very comfortable with refreshments, hostess service and a lavatory.
You can make bookings with Air Rarotonga Ltd direct by e-mail.
Their address is :
bookings@airraro.co.ck
They accept major credit cards, and are helpful and friendly.
You can also book tickets on their website:
www.airraro.com
We meet guests at Aitutaki airport and personally welcome them to our island with flower eis. We arrange their transfers to the lodges.
All those travellers interested in a real life Cook Islands experience in a locally owned and operated visitor accomodation environment will enjoy staying with us. Our Lodges are suitable for those people who wish for a quiet, peaceful holiday in natural surroundings and for those who wish to interact with the local population on a genuine one to one basis and see us as we really are - all this at real value for money prices.
We make bookings for guests for restaurants island nights, lagoon tours, scuba diving excursions and hire vehicles if requested.
We make every effort to provide a quality product for our visitors, and help and assist them wherever we can as we wish our clients to experience the natural gentleness and beauty of our island.
Gina's budget self catering self contained vacations accommodation is ideal for family groups and is a very comfortable, peaceful and cost effective place to stay in Aitutaki.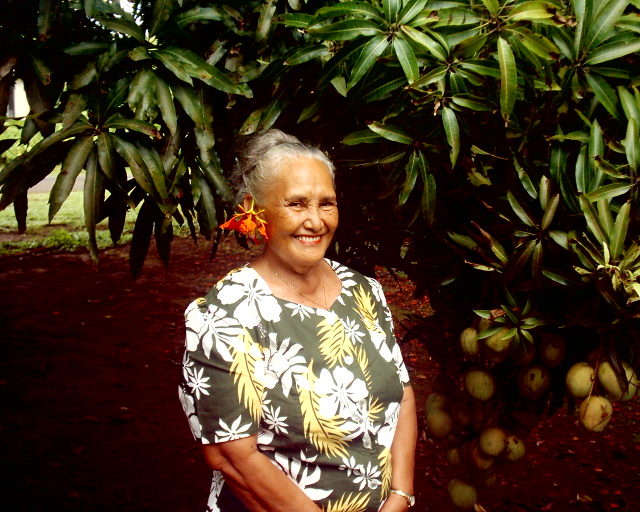 Your Hostess - Paramount Chief Queen Manarangi Tutai
A friendly, happy woman with a big Polynesian smile, Auntie Tutai, or "The Queen" has always lived on this, the island of her birth .She is also known as " Queen of the Sunrise", because her people are the first on Aitutaki to see the sun when each new day dawns.
Akaiami Island is the site of the Aitutaki Island terminus for the TEAL flying boat service ( TEAL stands for Tasman Empire Airlines Ltd) – the original Coral Route, which between December 1951 and September 1960 ran between Auckland, Laucala Bay in Fiji to the fabled island of Tahiti, via refueling stops at Samoa and Aitutaki. TEAL owned two Solent flying boats – the "Aparima" and "Aranui". At the time, it was the only air service available to both the Cook Islands and Tahiti, which did not then have an airport. Flying at only 150 knots, the giant four engine Short Solent flying boats were extremely comfortable, with luxurious cabin accommodation , and the food was of gourmet quality. The vast distances between landings and the slow speed meant that travel by this means took a long time. The flying boats came to Aitutaki twice a week – Thursdays and Sundays – once on the way to Tahiti, and once from Tahiti on the return leg back to Samoa and Fiji. They landed on a water landing area marked out with buoys, and then anchored in Akaiami Bay. TEAL had a small fuel depot at Akaiami , and aviation fuel was pumped out to the plane using a refueling barge.
Now, on the site where Queen Manarangi's Coconut House used to sit, just by the old TEAL wharf, we have built a visitor accommodation lodge, where guests can experience the beauty and peace of Akaiami Island, just like those passengers on the seaplanes did over fifty years ago.
Owner and Manageress: Queen Manarangi Tutai.
Address: P.0 Box 10, Aitutaki, Cook Islands
Telephone: (682) 31- 058
E-Mail: E-mail Gina's
Other Websites:
Stay with us at Gina's Akaiami Beach Lodge. Let us make your Polynesian dreams come true.
View our Short Television Advertisement showing the Beauty and Tranquility of Gina's Garden Lodges, near Tautu Village on the main island of Aitutaki
View the Mario Geremia Video - Aitutaki Lagoon of Love
Read Queen Manarangi's FaceBook Pages