Come and Stay With the Locals at Gina's Garden Lodges, owned by Queen Manarangi, and Explore the real Aitutaki- an Unbeatable Choice for Interactive Geo-Tourists who want to see us as we really are.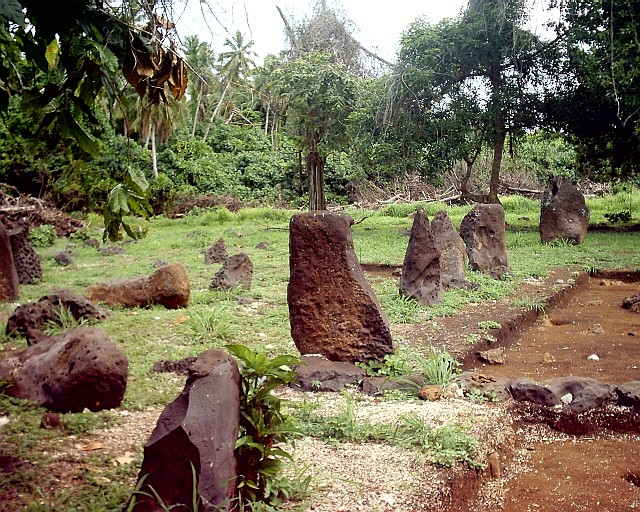 Te Poaki O Rae - Taravao
In the time before, when the Great South Sea lay brooding and dreaming undiscovered and untroubled by Western Man, my ancestors voyaged the salty wilderness seeking green and bountiful island oases. My people were children of the wind, hardy and strong. They carried with them knowledge of tides, waves and currents, navigating the vast ocean distances in wooden sailing vaka with pandanus sails, guided only by the stars with charts made of sticks and stones. Sailing directions were held safe, locked in memory by chants which gathered the knowledge of generations which had gone before.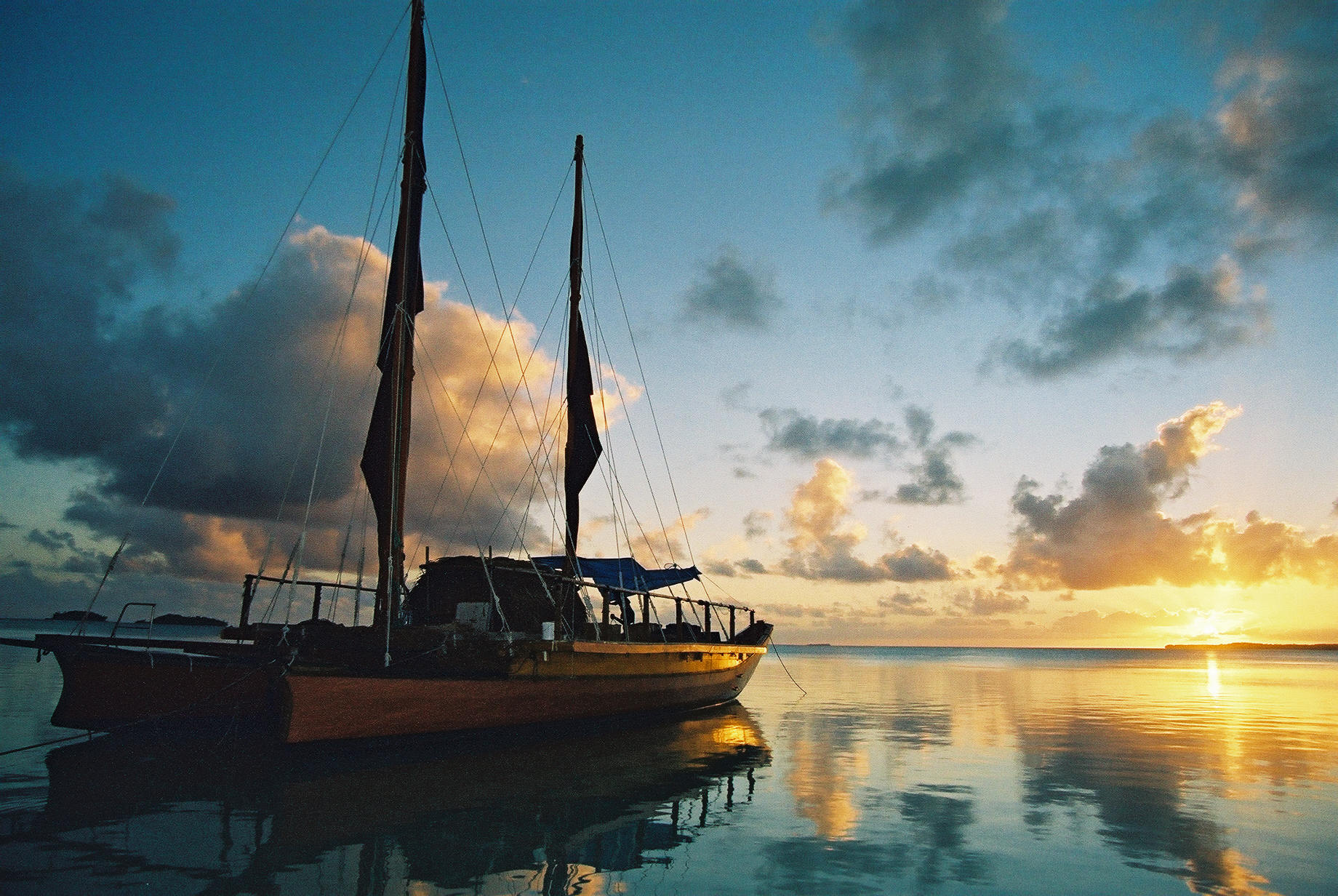 Cook Islands Voyaging Society Traditional Vaka "Te Au O Tonga" anchored off Akaiami Island, Aitutaki Lagoon.
Cradled in the arms of Tangaroa, nurtured by Rongo and with their faith to strengthen them, men, women and children ventured bravely into the unknown, horizon after empty horizon, seeking the hidden island worlds that they knew must be there. They were explorers the likes of which the world has never seen.
I belong to these brave heroic people – they are my fiber, my blood and bone. From them comes my strength and courage, and it is in this ancient world of pandanus, wood and stone that my foundation lies. I am Manarangi Tutai Ariki O Vaipaepae O Pau – Paramount Chief of Vaipae, Aitutaki.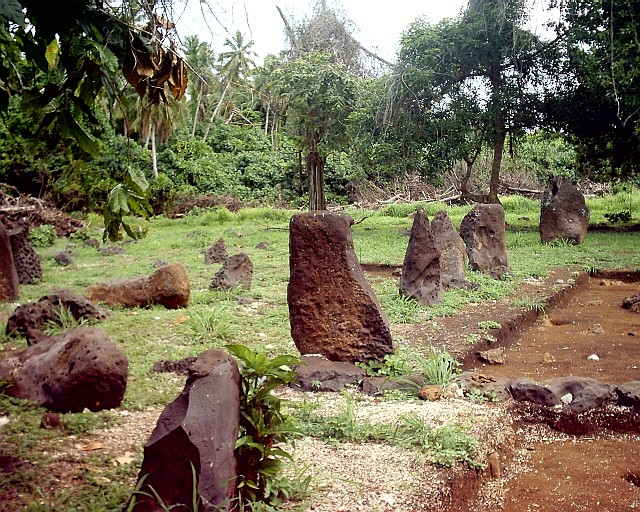 Avenue of Chiefly Seat Stones and Backrests - Paengaariki Marae - Taravao
During December 2008 and early January 2009 there has been ongoing excavation work being carried out at the site of the Paengaariki marae in Nikaupara, Aitutaki by Mark Eddowes, a field archaeologist and researcher from Huahine Island in French Polynesia and local Aitutaki historian Ngaakitai Pureariki and a team of Aitutaki workers. Mark, who is a Polynesian himself from Huahine, has worked as an archaeologist for the Ministry of Culture in Tahiti for the last 20 years, and he has excavated and restored marae and paepae throughout the Society Islands, Australs and the Marquesas. His research on the islands of Tubuai and Rimatara in the Austral Islands drew him to compare many with those in the neighbouring Cook Islands.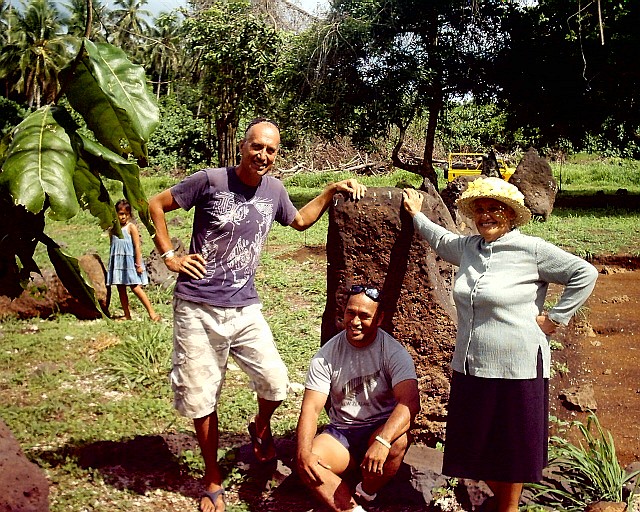 Mark Eddowes, Ngaakitai Pureariki and Queen Manarangi - Paengaariki Marae, Taravao
Ngaakitai is an Aitutaki man with strong connections to Paengaariki Marae and the surrounding area. For some years now he has had a deep interest in the history of our people and our island, and is the driving force behind the clearing of several ancient sites overgrown by trees and hidden in the bush.
Mark Eddowes says there are very striking similarities between Tubuai and Aitutaki, and he believes there could be a common origin for the people on these islands. These findings he published for the Minister of Culture of Tahiti in 2005.
Consulting the oral traditional material in puta tupuna in the Australs he came upon a number of unique recollections. According to oral tradition, a number of the tupuna sailed to the West, the direction of the Cooks, and settled there. There are names known only among the opuhuiari'i or chiefs on Tubuai, such as Tamatoa and Tahuhuiterangi, which are found also only on Aitutaki. The latter is known on Aitutaki as Teu'ukiterangi, an ancestor of both Ngaakitai and myself
.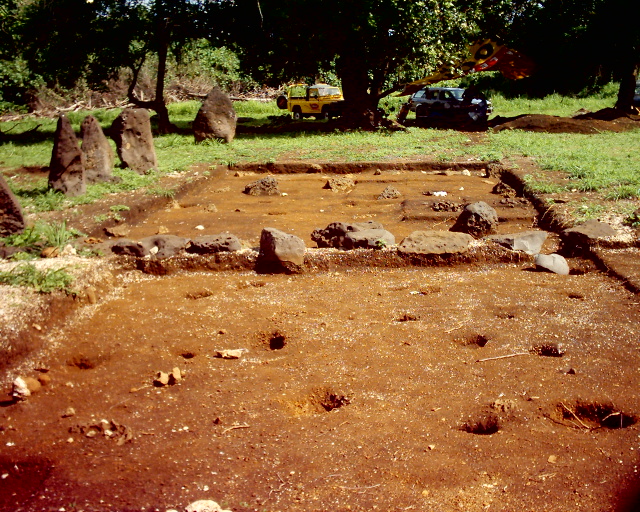 Excavation of Activity Areas - Paengaariki Marae- Taravao
The oral historical record of Ru and the women of Tubuai as being the ancestors of all people on Aitutaki, is another example of the close relationships between the islands. Mark believes that archaeology can serve to provide some information about ancient contacts. The similarity in the architectural appearance and plan of the marae, he believes, has not happened by chance and maybe something that occurred over a period of interaction between the two cultures. There are other areas to be explored during the project. For example, through a scientific analysis of basalt stones one can determine where exactly a toki or adze came from. Adzes from Hawaii have turned up in the Tuamotu Archipeligo, and Marquesan adzes from the island of Eiao have been found on Raiatea island.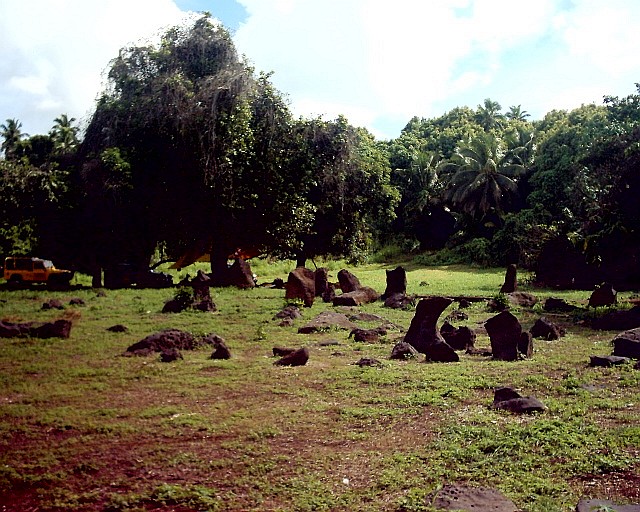 Overview of the Magnificent Spread of Stones - Paengaariki Marae, Taravao
Mark believes that some of the adze fragments found during the excavation of Paengaariki marae may be from Tubuai which was a major source of fine quality stone. If sourced to their origins, he believes this may throw light on the continued use of double-hulled voyaging canoes being used up to the time of contact with Europeans. The late Sir Thomas Davis KBE , a former Prime Minister, was certainly of this opinion. Director of the excavation Ngaakitai Pureariki says with Mark Eddowes on board, he can share his knowledge with the people of Aitutaki in archaeological methods and marae research.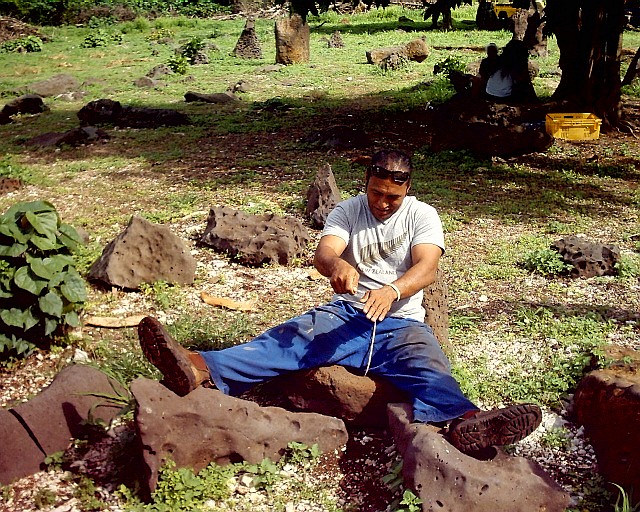 Ngaakitai sitting on the "paepae tehe i te ure" This is the position boys would assume for the supracision operation. Tapa cloth would be in place to soak up the blood
Ngaakitai says they may be able to find out when the marae was built, what ceremonies happened there, what foods the ancestors prepared there, and what other activities occurred at the marae. With a field crew of only local participants who were provided by the Island Secretary Sabati Solomona, and a trainee archaeologist on site as assistant to Ngaakitai much is being found out about the ancestor's ancient beliefs and practices. Ngaakitai says, for example, a "paepae tehe i te ure" or supra-incision stone, has been located in the place where boys of rank from the tribes of Nikaupara would undergo the rite of removing the prepuce on a special stone on the marae.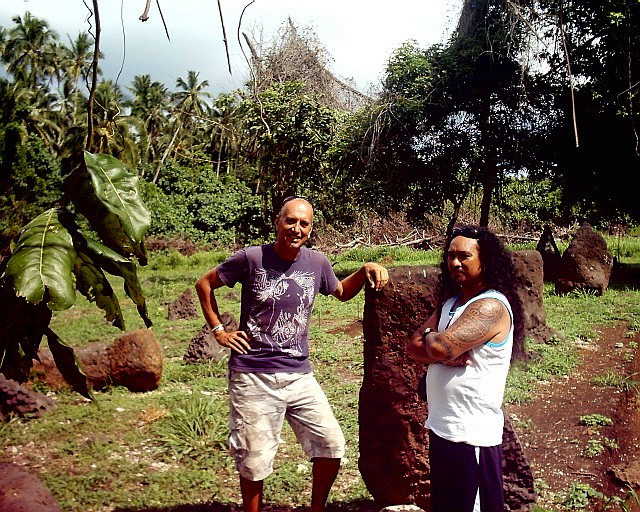 Mark Eddowes with Maukean Archaeologist Maara Maeva Karati from Auckland Museum
This was an ancient practice in Aitutaki (and Polynesia) and a highly important event in the life of a young man in former times. This cultural importance carries on until today although nowadays the operation is performed in more hygienic conditions by medical staff at the hospital, and is the usual Western style circumcision. Unlike the practice overseas where it is done at a very early age, if at all, circumcision is done in Aitutaki at the age of 12 or 13 years, and is still a symbolic ritual associated with puberty and the transition from childhood to manhood. A youth with an intact foreskin will be teased mercilessly, and will not be seen as desirable by young women.
Some of the items uncovered during the excavation include a large sling stone; a broken riitual adze which was recovered from the ancient altar or atarau; and sacred ovens (umu) ) with the remnants of the ritual foods cooked in them.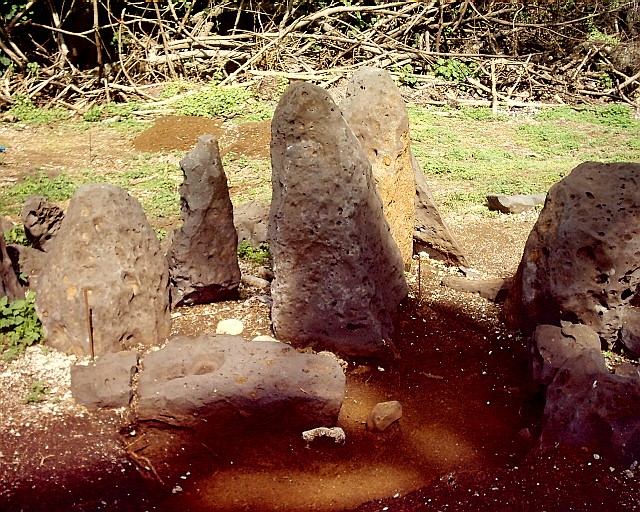 Seat and backrest showing excavations made in search of artifacts
All artifacts recovered duting the excavation will be measured, drawn to scale, and photographed on Aitutaki. They will also remain on the island in the hands of the mataiapo of Nikaupara. The only materials to leave the island will be faunal material for analysis (fishbone, pig bone, birdbone) to learn more about the species contained in the diets of the tupuna in the past. Charcoal for radio-carbon dates will also be taken away to provide a chronology for the building and use of the marae over time.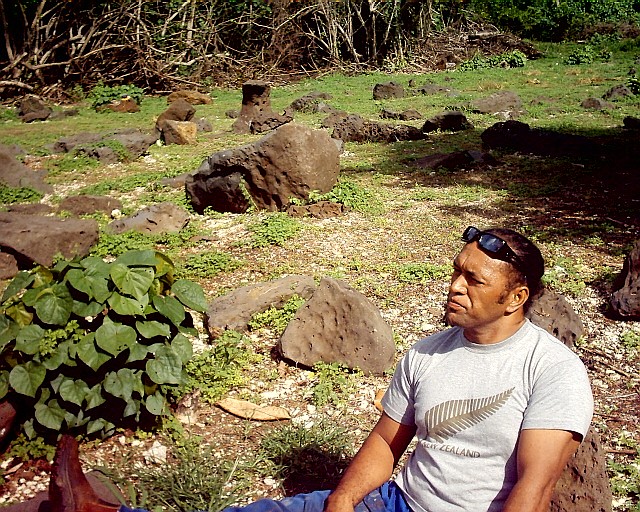 Ngaakitai Pureariki in a Thoughtful Mood
Mark showed me his very fine painstaking drawings and plans of the Marae area, which will add greatly to the very slim body of work now existing on our history, and i believe we are most fortunate to have him visit and work with us. Much credit is due to Ngakitai's drive and initiative in making this happen, and Aitutaki island owe him a debt of gratitude for his work on this and other historical sites.
Ngaakitai says special thanks should go to the mataiapo of Nikaupara and community who requested that Mark come from Tahiti to help in this work, along with council members and mayor for their support in this project. He says the people of Aitutaki should also be acknowledged for their role in the aerial excavation of the marae. The project is ongoing and Ngaakitai says Mark will be seeking assistance from authorities in French Polynesia and the National Geographic to help with future work.
Update - February 2009
Aitutakian field archaeologist Ngaakitai Pureariki continues to unravel the historical past of Aitutaki with his recent discovery of an ancient basalt tool factory on one of the Aitutaki motu. He found 16 pre-formed adzes plus what he believes to be the "sand paper" which the islands's ancestors used to smooth their tools - pumice - which is found in volcanic areas.
Ngaakitai hopes that one day there will be a Museum established on Aitutaki where his finds can be displayed to both the coming generations of Aitutaki people and visitors to our island.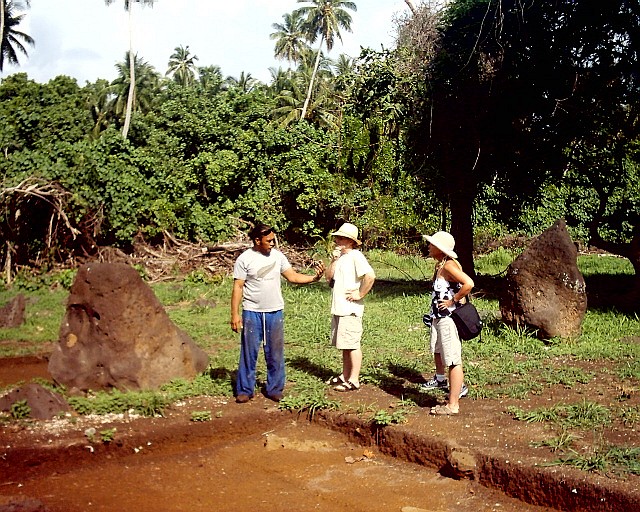 Ngaakitai Explaining the Excavation with some of his Tour Guests.
E-mail Gina's (Click here)